I've heard readers dislike weak female characters. Recently, I published, "Show Your Character's Wounds?" Together, these ideas may confuse writers. They may ask: Can wounded heroines be strong female characters?
Strong Female Character
First, I've compiled a list of traits I believe belong to a strong female character.
♥ is multidimensional
♥ perseveres and endures; progresses forward in hope
♥ is independent but knows when to seek advice or help
♥ rises to challenges, whatever her environment is
♥ is intuitive, book smart, common-sense smart, or all three
♥ has at least one competency
♥ empathizes; helps others or contributes to society
♥ makes choices
♥ stands up for what she believes in
♥ is flawed but grows
♥ has inner strength to face trials and survive
♥ is essential to the story through her strengths and weaknesses
♥ is the lead; other characters support her
A Heroine With Wounds
A wounded heroine can meet the above criteria, but her wound has caused a flaw. It's key she outgrows that flaw or doesn't allow it to paralyze her.
For many wounds, The Emotional Wound Thesaurus by Angela Ackerman and Becca Puglisi gives "OPPORTUNITIES TO FACE OR OVERCOME THIS WOUND." I list three wounds and give examples of what a strong female character does to show she's overcome her past wound.
HOME INVASION. When Ann was a child, a thief entered and stole precious items from her house. Early in the story, Ann obsesses over recovering a family heirloom after learning the sale was shady. Now, a fire demolishes Ann's possessions, including the heirloom. But saving things never enters Ann's mind while she rescues her daughter. As she hugs her daughter, she sees the heirloom as insignificant. Ann's wound becomes a scar.
PHYSICAL ASSAULT. When Ella was a teen, a man attacked her. Leery of men's intentions, Ella doesn't go out with men alone. Then, she double-dates and enjoys Eric's company. After dating Eric several times alone, her trust develops. She accepts a client's dinner invitation to discuss business. He becomes drunk. At her car, he makes advances. She tells him to leave. He persists. She grabs his arm and warns him she's learned how to defend herself. She asks if he wants to suffer the pain she's ready to inflict. He staggers away. Ella learns there are safe men, and she can stand up to others who aren't. Her wound shrinks to a scar.
A PHYSICAL DISFIGUREMENT. Kate has eye pupils shaped like keyholes (coloboma). She doesn't mind people asking about her condition and is glad to explain that from birth a tissue piece is missing from each eye. What bothers her is when people won't make eye contact or fail to listen to her because they're focused on her pupils. Now, she teases her new boyfriend about his noticeable cowlick. He sighs and says, "I was waiting for you to go after my cowlick." Kate realizes she's no better than the people who frustrate her. Kate's wound fades into a scar.
Wounded heroines can be strong female characters. Click to tweet.
How might a strong female character overcome being bullied in her past?
COOKING UP KISSES – has earned an Amazon #1 bestseller ribbon in two categories!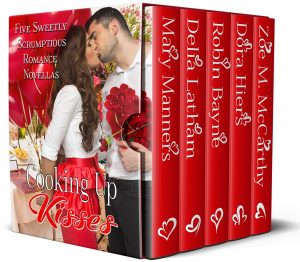 Five scrumptious e-book romance novellas, all for $0.99 or free on KindleUnlimited. Here's the link.  Here are the blurbs: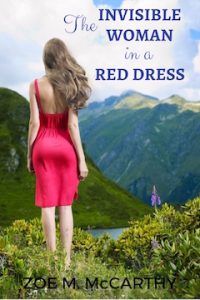 THE INVISIBLE WOMAN IN A RED DRESS BY ZOE M. McCARTHY
Candace Parks lives a passionless life in Richmond. The computer programmer returns to the empty family home in the Blue Ridge Mountains solely to evaluate her job, faith, and boyfriend. Her high school crush, Trigg Alderman, who barely remembers her, visits his Gram next door. Sorting her life out? How about nothing of the sort!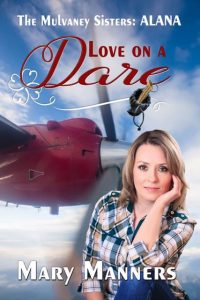 LOVE ON A DARE BY MARY MANNERS
Alana Mulvaney's life is in a holding pattern. Consumed by day-to-day operations of the family business, Alana has no time for fun or romance. But a little fun and a whole lot of romance is just what Alana's sisters have in mind when they learn childhood friend Donovan O'Reilly has returned to town.
Donovan O'Reilly has loved Alana Mulvaney since he moved in next door to her at the age of five. But he broke her heart when he was forced to leave town, and now that he's returned home to Winding Ridge he has a second chance to prove himself. But is it too late to earn her trust…and her love…again?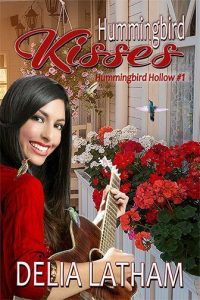 HUMMINGBIRD KISSES BY DELIA LATHAM
Toni Littlebird believes that when she meets the man God created for her, she'll know—and she'll love him in that very moment.
But then Dax Hendrick roars into Hummingbird Hollow on a noisy, crippled Harley, stinking up the air and chasing away her beloved hummingbirds. One look into the intruder's eyes and her heart sinks. He's "The One." She'd been right about knowing, but wrong about something far more important: She will never love this man!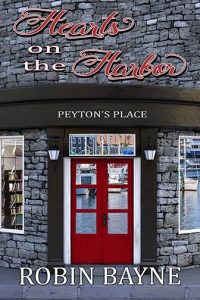 HEARTS ON THE HARBOR BY ROBIN BAYNE
Cara Peyton is content with her life, her trendy Baltimore bookshop is perfect for her. But when her ex turns up to remodel the store, asking for a second chance, she's torn and unsure about risking her heart again. Can he convince her to trust him, and God, before the job is finished?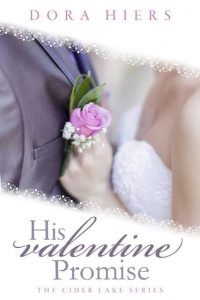 HIS VALENTINE PROMISE BY DORA HIERS
Another Valentine's Day and Quinn Randolph prefers to spend it with her sweet rescue lab. Who needs men and their broken promises? Especially Pierce Karson's! Years ago, his desertion shattered her. Now he's trying to steal the property she targeted to expand her florist shop! Pierce only wants to belong…and for Quinn to choose him. His Valentine Promise…