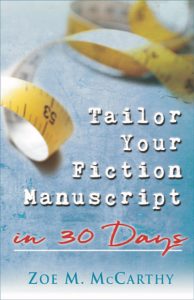 Zoe McCarthy's book, Tailor Your Fiction Manuscript in 30 Days, is a fresh and innovative refocusing of your novel or novella. Through a few simple—and fun—steps, Zoe helps writers take their not-ready-for-publication and/or rejected manuscripts to a spit-polish finish. Writing is hard work, yes, but it doesn't have to be difficult.
—Eva Marie Everson, best-selling and multiple award-winning author, conference director, president of Word Weavers International, Inc.
If you want to increase your chance of hearing yes instead of sorry or not a fit for our list at this time, this book is for you. If you want to develop stronger story plots with characters that are hard to put down, this book is for you. Through McCarthy's checklists and helpful exercises and corresponding examples, you will learn how to raise the tension, hone your voice, and polish your manuscript. I need this book for my clients and the many conferees I meet at writer's conferences around the country. Thank you, Zoe. A huge, #thumbsup, for Tailor Your Fiction Manuscript in 30 Days.  
—Diana L. Flegal, literary agent, and freelance editor
Tailor Your Fiction Manuscript is a self-editing encyclopedia! Each chapter sets up the targeted technique, examples show what to look for in your manuscript, then proven actions are provided to take your writing to the next level. Whether you are a seasoned writer or a newbie, you need this book! 
—Sally Shupe, freelance editor, aspiring author