Tailor Your Fiction Manuscript in 30 Days
Zoe McCarthy's book, Tailor Your Fiction Manuscript in 30 Days, is a fresh and innovative refocusing of your novel or novella. Through a few simple—and fun—steps, Zoe helps writers take their not-ready-for-publication and/or rejected manuscripts to a spit-polish finish. Writing is hard work, yes, but it doesn't have to be difficult.
—Eva Marie Everson, best-selling and multiple award-winning author, conference director, president of Word Weavers International, Inc.
If you want to increase your chance of hearing yes instead of sorry or not a fit for our list at this time, this book is for you. If you want to develop stronger story plots with characters that are hard to put down, this book is for you. Through McCarthy's checklists and helpful exercises and corresponding examples, you will learn how to raise the tension, hone your voice, and polish your manuscript. I need this book for my clients and the many conferees I meet at writer's conferences around the country. Thank you, Zoe. A huge, #thumbsup, for Tailor Your Fiction Manuscript in 30 Days.  
—Diana L. Flegal, literary agent, and freelance editor
Tailor Your Fiction Manuscript is a self-editing encyclopedia! Each chapter sets up the targeted technique, examples show what to look for in your manuscript, then proven actions are provided to take your writing to the next level. Whether you are a seasoned writer or a newbie, you need this book! 
—Sally Shupe, freelance editor, aspiring author
An Irresistible Woman

A home-improvement-store manager helps a Chicago fashion model on a remote Virginia mountain road—let the remodeling begin!
Overworked Chicago fashion model Vivian Day flees a demanding photo shoot in Roanoke, Virginia, and heads for a three-week vacation in Tennessee.
But when Vivian detours into the Virginia Blue Ridge Mountains, her car breaks down on a remote mountain road. Home-improvement-store manager Brayden Cole gives the frustrated, uppity woman a ride.
Now, she must stay in Twisty Creek with Brayden's mother until her car is repaired, and Brayden reluctantly agrees to his mother's request to show the model the beautiful mountain views.
An Identical Woman
The cattle farmer's disabled father has hired a CNA who's a walking photo of the farmer's deceased wife.
Certified Nursing Assistant Lattice Stone attends the funeral of her patient and dear friend, the grandmother she never had.
Trace McMillan has lost his Little Granny. At the funeral, he's shocked to see Lattice who's a ringer for his deceased wife he's grieved for five years.
But when Trace's partially paralyzed father's caregiver must quit, his father, Olen, wants to hire Lattice who's highly recommended.
Now, Trace is dead set against having a woman identical to his wife daily under his roof. And though Lattice is unaware she mirrors Trace's wife and would like to care for a private patient, she's unsure about dealing with Olen's testy son.
Crumbled, Tumbled, Humbled—Saved
Everyone loves to hear the message through a story that comes alive. Do you need a message or devotional for that luncheon, for a retreat or your support group? Are you looking for a fresh approach to troublesome issues in your Bible study? These allegories are entertaining yet powerful as they get to the point. Youth and adults in all stages of faith can enjoy these stories. They deal with the power of prayer, with how God provides for his people, with our letting go so God can accomplish great things through our lives, and with the ways we share our faith.
Pearls in the Muddle
Everyone loves to hear the message through a story that comes alive. Do you need a message or devotional for that luncheon, for a retreat or your support group? Are you looking for a fresh approach to troublesome issues in your Bible study? These allegories are entertaining yet powerful as they get to the point. Youth and adults in all stages of faith can enjoy these stories. They deal with Jesus the Christ, struggles with sin, trials and tribulations, and the Christian journey.
The Invisible Woman in a Red Dress
Candace Parks lives a passionless life in Richmond, Virginia. The computer programmer returns to the empty family home in the Blue Ridge Mountains to evaluate her job, faith, and boyfriend.
Her high school crush, star football player and prom king Trigg Alderman, is in Twisty Creek visiting his grandmother who lives next door to Candace's family home. He doesn't recognize her at first and remembers little about her. He's not alone.
Candace's rekindled attraction to Trigg adds unexpected complications to finding her passions.
Sorting her life out? How about nothing of the sort!
Good Breaks
Life has dealt Jassie Kinnamon bad breaks. Her hardships have shaped the mammography tech into a woman who desires to fix other people's situations. After her last tragedy, she left the ski community of Denver for Birch Gap, a small ski town in the Blue Ridge Mountains of western North Carolina. Jassie is fasting from romantic relationships and puts all her energy into her job, detecting breast cancer. Entrepreneur Connor Noble has had bad breaks of his own. He has also moved from Denver's skiing scene to Birch Gap. For the love of a woman—a much older woman—Connor has brought a huge responsibility with him to Birch Gap. A new bad break introduces Jassie and Connor. The love of skiing and first-hand knowledge of ski resorts in the West seems to be the only things they share in common until Jassie offers to help Connor with his responsibility. He cautiously accepts her kindness. Too often for Jassie's liking, they are thrown together at Connor's chalet. Jassie tries to resist her growing feelings for Connor and deal with trust issues she prays about. Will Jassie break her fast for Connor, or will she try to fix his flaws?
The Putting Green Whisperer
Suddenly unemployed, Allie Masterson returns home to Cary, North Carolina where she caddies for her father on the PGA Seniors Tour. There, she encounters a man who possesses an alluring gift of reading the contours of the green. Fascinated with his uncanny ability, Allie is excited to meet the Green Whisperer—until she discovers that the easygoing caddy is actually Shoo Leonard, the boy who teased her relentlessly when they were kids. Despite Allie's reservations, when Shoo is faced with having to overcome a hand injury, she agrees to use her sport science degree to become his trainer…and then she falls for him.
Shoo Leonard is grateful to Allie for her singular determination to get him ready for the PGA tour, but he isn't ready for anything more. Still raw from a broken engagement and focused on his career, he's content to be her fist-bumping buddy…but then he falls for her.
What seems like a happily-ever-after on the horizon takes a turn when Allie decides she's become a distraction to Shoo's career. Is it time for her to step away or can The Putting Green Whisperer find the right words to make her stay? 
Gift of the Magpie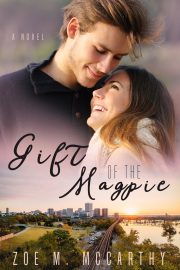 ISBN-13#: 978-1-946016-21-8
Published by Candlelight Romance, an imprint of Lighthouse Publishing of the Carolinas
Paperback, Kindle, and KindleUnlimited


Amanda Larrowe's lack of trust sabotages her relationships. The English teacher and award-winning author of middle-grade adventure books for boys has shut off communication with friends and family to meet her January 2 book deadline. Now, in the deepest snow accumulation Richmond, Virginia has experienced in years, Camden Lancaster moves in across the street. After ten years, her heart still smarts from the humiliating aftermath of their perfect high school Valentine's Day date. He may have transformed into a handsome, amiable man, but his likeability doesn't instill trust in Amanda's heart. When Cam doesn't recognize her on their first two encounters, she thinks it's safe to be his fair-weather neighbor. Boy is she wrong.
Praise for Gift of the Magpie
In Gift of the Magpie, writer Amanda Larrowe finds herself with a pressing deadline, a new neighbor and an old grudge. But Christmas has a way of sweeping in with surprises, and Amanda soon discovers that there's more than one way to end a story. This fast-moving, lighthearted romance will hold readers in its grip to the very last page. 
—Suzanne Woods Fisher, bestselling author of The Devoted
When the doorbell rings and you're in your snowman jammies and the guy who humiliated you ten years ago stands on your doorstep looking more handsome than ever . . . it's a sure set-up for a second chance at love. Once again, Zoe M. McCarthy gives us a fun and cozy romance as satisfying as a cup of homemade hot chocolate. 
—Becky Melby, author of the Lost Sanctuary Series and Do You Know What I Know?
Calculated Risk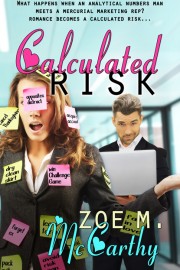 ISBN-13#: 978-1-61116-356-8
Published by White Rose, an imprint of Pelican Book Group
Paperback and E-book



Praise for Calculated Risk
"Dating on the rebound, meddling parents, opposites fighting the attraction. . .with humor and tenderness, Zoe M. McCarthy puts fun, fresh spins on these favorite themes. No risk involved in picking up this romantic read!"
—Becky Melby, author of the Lost Sanctuary Series
"It's easy to enjoy this story of faith, family and how two people find love at the exact time in their lives they need each other most. I loved spending Thanksgiving with Nick's family almost as much as Cisney did! Calculated Risk is a perfect title for a story of two people whose lives and livelihood must include measuring risk, but there is no risk for a reader in choosing this delightful romance!"
—Maureen Lang, author of All in Good Time
What happens when an analytical numbers man meets a mercurial marketing Rep? Romance is a calculated risk…
Whoever said opposites attract was right, of course…but no one ever said what they attract.
Jilted by the latest of her father's choices of "real men," Cisney Baldwin rashly accepts an invitation to spend Thanksgiving weekend with a sympathetic colleague and his family. Nick LeCrone is a man too much her opposite to interest her and too mild-mannered to make her overbearing father's "list." Now, Cisney fears Nick wants to take advantage of her vulnerable state over the holiday. Boy, is she wrong.
Nick wants little to do with Cisney. She drives him crazy with all her sticky notes and quirks. He extended an invitation because he felt sorry for her. Now he's stuck, and to make matters worse, his family thinks she's his perfect match. He'll do what he can to keep his distance, but there's just one problem—he's starting to believe Cisney's magnetism is stronger than he can resist.