Author Marion Ueckermann is my guest today. Enjoy Marion's blog tour and tips to keep readers engaged. And note the drawing below for a chance to receive an eBook of Marion's novel.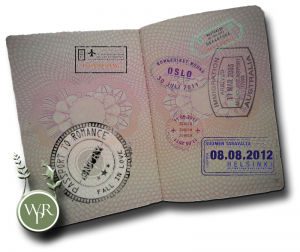 Helsinki Sunrise, a Passport to Romance, blog tour follows on from yesterday's stop in Central Alberta, Canada with Marcia Lee Laylock where I posted a book review with a difference.
Today I share with you the magic formula I discovered to keep up the conflict, and thereby keep the reader turning the page.
Helsinki Sunrise was the first manuscript I applied the method to, and I wish I'd known about it earlier. I'll have to do a lot of rewriting on my previous manuscripts, but I know it will be worth it.
Applying this method from Dwight Swain, I turned critiquers' comments from "…this is where I'd stop reading," to "…as a reader I loved the conflict which works because often I was tired and needed to go to bed but I had to see the next sub to know what happened."
SCENE/SEQUEL METHOD
Dwight Swain, in his book Techniques of the Selling Writer, identifies two distinct types of scenes. I think of them as major and minor—major is a scene that is made up of a Goal, Conflict, and a Disaster; and the minor scene, called a sequel, is made up of Reaction, Dilemma, and a Decision.
This method forced me to be more of a plotter, because I'm a pantser at heart. I now think about the chapter, plot it out using the Scene/Sequel method, and then write it. I create an Excel worksheet for each chapter. I use a different colored font for each POV character.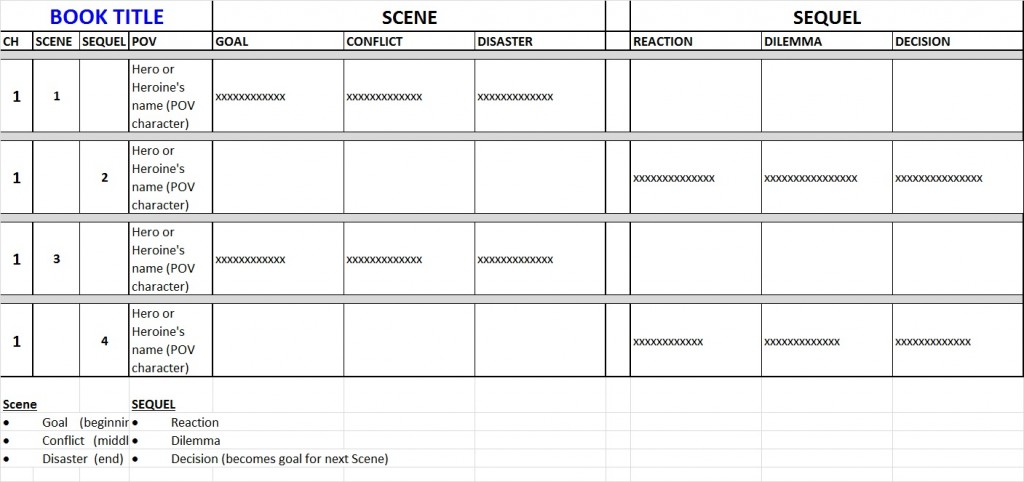 SCENES are action-packed and have three parts:
Goal. What the POV character wants to achieve (and it must be achievable within the Scene).
Conflict. The middle part (bulk) of the Scene is filled with conflict. Without conflict the reader becomes bored. Make the hero/heroine struggle.
Disaster. A Scene must end with a disaster. Your POV character doesn't reach his Goal. If characters do reach their goals, there's no reason for the reader to stay up and turn the page. A disaster is the hook.
But readers cannot be on an adrenaline highs all the time, and Sequels give them time to catch their breath before the next action-packed, conflict-laden Scene.
SEQUELS also have three parts:
Reaction. When disaster strikes, your POV character will have a reaction to that disaster. Allow your reader to experience the emotions along with your POV character.
Dilemma. This reaction must lead to a dilemma that leaves the POV character with no good options.
Decision. Your POV character will then make the best possible decision under the circumstances, and this in turn becomes the goal for the next Scene.
You will eventually end the Scene/Sequel cycle and bring the story to an end, and before your readers know what's happened, they've reached the end of the story, too.
 This Scene/Sequel method of writing has really revolutionized my writing. Click to tweet.
HELSINKI SUNRISE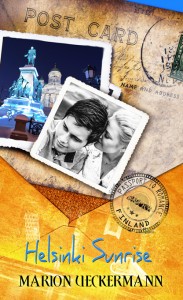 He needed the island to himself. So did she.
Three weeks alone at a friend's summer cottage on a Finnish lake to fast and pray. That was Adam Carter's plan. But sometimes plans go awry.
On an impromptu trip to her family's secluded summer cottage, the last thing Eveliina Mikkola expected to find was a missionary from the other side of the world—in her sauna.
Determined to stay, Eveliina will do whatever it takes—from shortcrust pastry to shorts—to send the man of God packing. This island's too small for them both.
Adam Carter, however, is not about to leave.
Will he be able to resist her temptations?
Can she withstand his prayers?
NEXT STOP AND A DRAWING
Be sure to follow this blog tour tomorrow. There be a double stopover, both at locations in Australia. We'll take a look at Finland with Narelle Atkins, and at a Finnish wedding with Inspirational Romance hosted by Rita Galieh.
There will be an eBook of Helsinki Sunrise up for grabs today. To be entered into the drawing, please leave a comment with your email address before September 19th.*
Numerous eBooks of Helsinki Sunrise will be given away on the blog tour, so take a journey to each of the stops and leave a comment. Don't forget to include your email address.
Helsinki Sunrise is available to purchase from Pelican Book Group, Christianbook.com, Amazon, Barnes & Noble, Kobo, and iTunes.
Watch the Helsinki Sunrise book trailer on YouTube.
Watch the Passport to Romance book trailer on YouTube.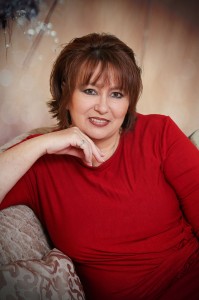 Marion Ueckermann's passion for writing was sparked in 2001 when she moved to Ireland with her husband and two sons. Since then she has published devotional articles and stories in Winners, The One Year Devotional of Joy and Laughter (Tyndale House Publishers), and Chicken Soup for the Soul: Miraculous Messages from Heaven, and her debut novelette, Helsinki Sunrise (White Rose Publishing, a Pelican Book Group imprint, Passport to Romance series).
Marion blogs for International Christian Fiction Writers and Beauty for Ashes. She belongs to Christian Writers of South Africa and American Christian Fiction Writers. She lives in Pretoria East, South Africa in an empty nest with her husband and their crazy black Scottie, Wally.
Connect with Marion Ueckermann: Website / Amazon / Facebook / Twitter / Pinterest
Blogs: A Pebble in my Pocket / Foreign Affaire
* Void where prohibited; the odds of winning depend on the number of entrants. Entering the giveaway is considered a confirmation of eligibility on behalf of the enterer in accord with these rules and any pertaining local/federal/international laws.
Permission to use images obtained.