When information and explanations
interrupt,
slow the story's pace, or
bore or frustrate readers
writers need to hear, "Much information and explanations
aren't necessary,
shouldn't be told through author intrusion,
can be fed in a little at a time,
can be given without head hopping, and
should be shown through actions and dialogue.
Here's an example.
Information and Explanation Overkill
"How are you today, Todd?" CNA Cassie, her title meaning Certified Nursing Assistant, said to nursing home resident, Todd, a thirty-year-old man who'd been in Serenity Nursing Home since his car accident a month ago.
"No worse than yesterday." Todd hoped Cassie would deliver his breakfast and leave. He didn't feel like talking.
Todd was missing one leg below the knee and the opposite hand. After he'd seen his girlfriend enter a restaurant with his business rival, he'd texted her while driving. The rescue squad had to cut him out of his wrecked car.
Todd's therapist would arrive soon. Danny had become his friend and watched TV with him after his shift.
CNA Cassie set his tray on his roll table, the kind all nursing home rooms had. "Todd, you need to eat more." She'd checked with the nurse and learned he'd lost ten pounds because he ate less.
She was drawn to Todd and had enjoyed bantering with him until he'd stopped about a week ago. She'd thought he liked her more than a CNA or a friend.
She removed his comb from his bedside table drawer, but when she tried to comb his hair Todd stopped her with the arm that still had a hand.
Why'd Cassie always have to do things for him? She knew he could comb his hair with his right hand.
Cassie, downcast, but wanting to show she didn't care he'd pushed her away, grabbed his laundry bag and left the room.
Analysis
Choose only Cassie's point of view because the scene's main purpose is to show Cassie's feelings for Todd.
Save how Todd lost his limbs for a later scene to add suspense and boost a sagging story middle.
See below. I've deleted unnecessary information and explanations and worked other information into Cassie's thoughts and dialogue to get the story moving.
Improved Scene
Certified Nursing Assistant Cassie carried a breakfast tray into Carl's room and smiled. "How are you today, Carl?"
"No worse than yesterday," Carl mumbled.
Cassie rolled her eyes. Every day for the last week, he'd been grumpier than the day before. If only Carl understood missing a hand and a leg below the knee didn't make him a freak.
He thumbed the bed control device and raised himself to a sitting position. His arm stub nudged the TV remote aside on the roll table.
Cassie set the tray in front of him and opened his milk carton. "Your therapist is scheduled for ten."
"Don't you think I know that? Danny's the only one I can stand around here."
Cassie forced her smile to remain as she unsheathed his straw. "Try to eat more this morning." She inserted the straw into the carton. "You need to gain your weight back."
Carl grunted.
Why wouldn't he look at her? In the first weeks, their banter had been fun. For a good-looking guy of thirty, he could have an enjoyable life. When Serenity Nursing Home released him, she'd gladly date him.
"During my afternoon break, would you like me to wheel you around the garden?"
He stabbed a sausage link. "No."
"I thought you enjoyed the walks. Would you go if someone else took you outside?"
He met her gaze as he bit off the end of the sausage. "It's not you. I just prefer my own company."
Her heartbeats fluttered. She wasn't his problem. Maybe with time …
She glanced at his unruly dark curls. How she'd love to touch them. She removed his comb from the bedside table. "Let's make you presentable for your own company."
He pointed the fork at her. "Don't. I can comb my own hair." He directed the fork toward the door. "Just go."
A knot formed in Cassie's throat. No way would she let him see he'd hurt her. She grabbed his laundry bag and left.
How to handle explanations and relay information in your story. Click to tweet.
Look at one of your scenes. How did you relay information?
COOKING UP KISSES – has earned an Amazon #1 bestseller ribbon in two categories!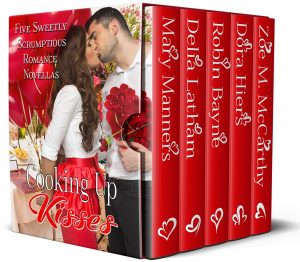 Five scrumptious e-book romance novellas, all for $0.99 or free on KindleUnlimited. Here's the link.  Here are the blurbs: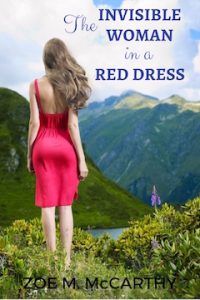 THE INVISIBLE WOMAN IN A RED DRESS BY ZOE M. McCARTHY
Candace Parks lives a passionless life in Richmond. The computer programmer returns to the empty family home in the Blue Ridge Mountains solely to evaluate her job, faith, and boyfriend. Her high school crush, Trigg Alderman, who barely remembers her, visits his Gram next door. Sorting her life out? How about nothing of the sort!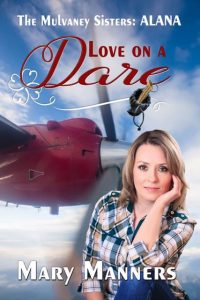 LOVE ON A DARE BY MARY MANNERS
Alana Mulvaney's life is in a holding pattern. Consumed by day-to-day operations of the family business, Alana has no time for fun or romance. But a little fun and a whole lot of romance is just what Alana's sisters have in mind when they learn childhood friend Donovan O'Reilly has returned to town.
Donovan O'Reilly has loved Alana Mulvaney since he moved in next door to her at the age of five. But he broke her heart when he was forced to leave town, and now that he's returned home to Winding Ridge he has a second chance to prove himself. But is it too late to earn her trust…and her love…again?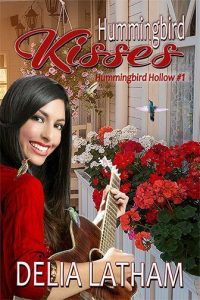 HUMMINGBIRD KISSES BY DELIA LATHAM
Toni Littlebird believes that when she meets the man God created for her, she'll know—and she'll love him in that very moment.
But then Dax Hendrick roars into Hummingbird Hollow on a noisy, crippled Harley, stinking up the air and chasing away her beloved hummingbirds. One look into the intruder's eyes and her heart sinks. He's "The One." She'd been right ab