"One fails forward toward success." — Charles F. Kettering
I share the story of my meet-the-author library event for one purpose:
Don't bemoan the poor response to your author event; look for the hidden successes. Click to tweet.
Act 1 – The Setup
I called a library. The event coordinator detailed impressive ways she promoted author events. She said the library was dedicated to helping authors. According to her suggestion, we set up a weekday date from 11AM to 1PM.
Later, I delivered my press release content and book cover poster, which the coordinator displayed at the entrance. It would greet patrons for a month.
We checked whether my MacBook Air would work with their projector. Too iffy. I'd bring my large-screen desktop.
The head librarian said 4 to 12 attended these events. No surprise to me.
Act 2 – The Preparation
I wanted to add activities different from the normal ones. Of course, I'd wear my Cisney costume from Calculated Risk's cover with yellow stickies dotting my suit.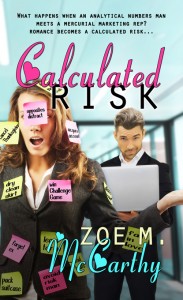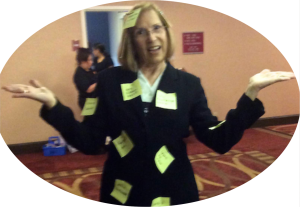 I prepared and timed activities to fit a 90-minute period, leaving time to settle in and chat. Here's the schedule titles:
1.  Doughnuts. Bring enough for participants and library staff.
2.  Writing journey with a twist: A String of Nevers. Perform my journey using catchy titles for each journey stage. Raise a NEVER sign each time I utter "never."
3.  Story behind the story. Keep it to a few entertaining stories.
4.  Story tidbits. Tell about 12 story-related items from my story basket. End each blurb with an intriguing story question.
5.  Scene 1. Give a dramatic reading.
6.  Book Trailers. Ask for feedback on Calculated Risk's two trailers.
7.  Q & A
8.  Bird of Paradise Napkin. Invite participants to fold a book-related napkin fold.
9.  Drawing. Give away a copy of Calculated Risk.
Act 3 – The Live Event
Sometimes, discussed promotion fails to happen. Such was true for this event. But I set up everything and was ready.
By 11:00, no one had arrived.
At 11:15, I enjoyed a doughnut, telling God everything was fine, I trusted him no matter what.
At 11:25, I told the mortified-for-me coordinator we'd try again in the spring. I packed up.
A woman came in: "I hear you've packed up and will return in the spring." We chatted. Another woman arrived disappointed I was leaving. So we went on with the show.
Successful Reviews
1.  For trusting God and refusing to lay blame for no attendees, God blessed me with two women.
2.  The two ladies are active in eight library book clubs. They told me to come back, and they'd promote the event using their connections. They recommended a bookstore where local authors do well in book signings. And they both bought a book.
3.  I'll use my preparation for this event for future ones. Rehearsing to two women is far better than to my mirror. I'll tweak my presentation, and I'll be ready for the next event.
4.  The head librarian recommended the same bookstore the women did and supplied names of contacts.
5.  I had fun.
What blessings have you received from an author event?