"Create content that teaches. You can't give up. You need to be consistently awesome." — Neil Patel
Here's a model that has kept me:
Constant in publishing blogs
Consistent outside and inside my content
Concise in wording my content
Clear in my content
Creative in brainstorming blog ideas and selecting photos and quotes
1.  Decide and no longer flounder
Consider carefully how often you can blog and which days you'll post. When I first started blogging, I decided I could blog once a week. I chose Thursdays to post. I haven't missed posting. (Constant)
Decide what type of blog you'll write: Journal, Review/Interview, or How-to. I write how-to blogs. (Consistent)
List what topics you'll stick to. My topics are:

writing craft,
book marketing,
blogging, and
speaking. (Consistent)
Decide if you'll host guests. I host guests who have how-to posts in my topic areas. (Consistent)
2.  Schedule and no longer struggle
Brainstorm and Draft. On Fridays, I seek God, brainstorm post ideas, research, and draft posts. I often use tasks I'm working on in my topic areas. That way, I can share my research. (Creative, Clear, Constant)
Polish and Setup. On Mondays, after my content sits for a weekend, I edit the main content down to 500 words, put it through my checklist, obtain photos and a quote, and add my post to WordPress. (Concise, Clear, Consistent)
Publish and Announce. On Thursdays, I review the post again, publish, and announce to social media and writing groups. (Clear, Consistent, Constant)
Respond to Comments.  I have email notification of comments sent to me. I respond to all comments as soon as I can. (Constant, Consistent)
3. Create aids and no longer forget
Checklist. Mine makes my editing tasks go quickly without worry. Most important reminders in my checklist are:   
◊  Check for:
•  Uniform bullet structures (Consistent, Clear)
•  Words I tend to misspell (Clear)
•  Words that may work as contractions (Concise)
•  Words ending with –ing (Concise)
◊  Add links and make sure they open in a new tab. (Clear)
◊  Construct Click to Tweet. (Clear)
◊  Test that links and Click to Tweet work. (Clear)
◊  Add tags and category. (Clear)
◊  Select featured photo. (Consistent, Clear)
◊  Capture post's unique link to announce posts. (Clear)
◊  Announce post to list of social media venues and groups. (Constant, Consistent)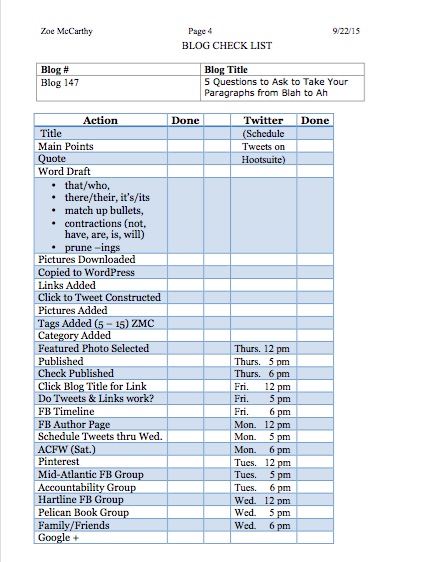 Photo and quote sites. I add an opening quote and 3 to 5 photos. I use the sites below. They have free photos and allow modifications. Required or not, I always give attributions.  (Clear, Consistent, Creative)

Photos:
Quotes:

Quotes from my research sources.
Reserve blog post. I always have at least one post ready on WordPress for emergencies. (Constant, Consistent)
Use this model to be a constant, consistent, concise, clear, & creative blogger. Click to tweet.
What do you do to make blogging efficient and your content reader-friendly?
Those of you who enjoy notifications through the ACFW loop will no longer receive them after 10/1/2015. Please consider clicking on RSS Feed to receive posts.