"Mark Twain said, 'The right word is to the nearly right word as lightning is to the lightning bug.' Fill your book with lightning." — Robert Littell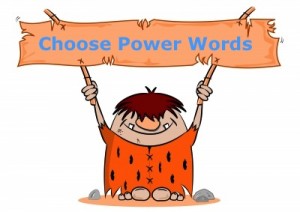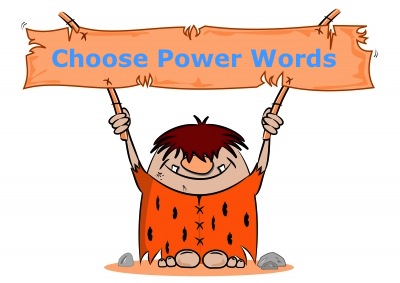 It's our choice to choose the word that gives our sentence the most power in creating a robust image in the reader's mind. Often, power words don't naturally pop into our heads.
What? Take the time to think about all 80,000 words in our manuscripts? Good news. You need to deliberate only the verbs, adjectives, and nouns.
From Wimpy to Forceful
Eric gave Elle the paper. I picture Eric extending the paper to Elle and her taking it. And maybe this is enough, if you're simply getting the paper into Elle's hand. You intend to call little attention to the action. You want your readers to focus on more important actions or items in your paragraph.
But even in the no-special-attention instance "gave" can be improved. And "paper" can be more specific. How about: Eric handed Elle the letter.
But look at the sentence in the following contexts. You might go through this process armed with a thesaurus/dictionary.
1.  Anger. Elle has presented Eric with divorce papers. Eric is incensed.
Gave⇒handed⇒pushed⇒shoved⇒thrust⇒threw⇒flung⇒hurled
Paper⇒pages⇒document⇒divorce papers⇒divorce contract⇒life death sentence
Eric flung the divorce papers at Elle.
2.  Joy. Eric presents his first book contract to Elle.
Gave⇒handed⇒waved⇒flapped
Paper⇒document⇒contract⇒book contract
As Eric strode toward Elle, he flapped the book contract. She whisked it from his grasp, examined it, and then danced him around the dining table.
3.  Awe. Eric has discovered a Biblical document in a cave.
Gave⇒handed⇒presented⇒laid⇒deposited⇒slid⇒settled⇒rested
Paper⇒document⇒fragment⇒scroll fragment
Eric rested the ancient scroll fragment on Elle's upturned palms.
I recommend you equip your writing desk with a copy of Flip Dictionary: For when you know what you want to say but can't think of the word.
Have on⇒put on⇒grace⇒supply⇒equip
Words can stimulate vivid images in your readers' minds. So choose good ones. Click to tweet.
In the context of jealousy, how would you power-up the example sentence?