I'm rewriting a story to take care of some issues. While struggling with the first chapter, I saw David Corbett's article, "Backstory From the Front" published in Writers Digest July/August 2016. His concept of how to use backstory is exactly what I needed.
I'm talking about stories that rely on empathy for dramatic impact. In my story, I'll address what happens and what the events mean to my character. If you write action, superhero, or mystery stories, backstory may not be as important to your plot.
Use of Backstory  
Corbett tells us to "employ the past in service of the present." I'm not to dump or even ease in backstory in Chapter 1. No flashbacks. Instead, I must know the backstory well so I can employ my character's backstory in how she navigates the world. And, how she evaluates the effects and meaning of events on her journey to determine what she'll do next.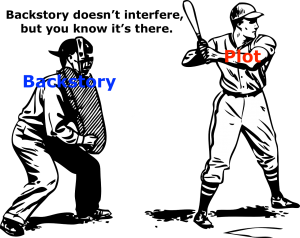 So, in chapter one my character's past needs to be embedded in how she thinks, feels, and assesses circumstances. My goal is to focus on what happens in Chapter 1, letting her be the person her past has created.
Corbett suggests that if our story is about our character overcoming the past then revealing important past events may be required, but they shouldn't be given in Chapter 1. Corbett advises that necessary backstory should be reserved "until crucial moments of self-evaluation are required to justify a key decision or action."
In Chapter 1, what should come through about my character from her backstory are:
her values, the ones she thinks she should live by, but possibly doesn't;
her attitude, how she reacts to events; and
her wants.
Her past has shaped her desire or yearning for her wants, and the reason—a wound, shortcoming, restraint, or flaw—that she hasn't obtained them yet.
In learning how she'll deal with present events, Corbett suggests we examine key moments in her life. Here are a few he lists:
shame
guilt
fear
courage
loss
love
These key moments mold how my character operates—her sense of what's
possible
probable
impossible
dreams – realistic or fanciful
I'm excited to introduce my character using how her backstory makes her who she is. It'll be fun to create suspense for the reader until the right moments to reveal important past events as she makes decisions and moves forward in her journey.
Chapter 1: don't tell backstory; show its effect on how a character presently operates. Click to tweet.
In thinking about your character, what's one effect backstory has had on how he/she operates?