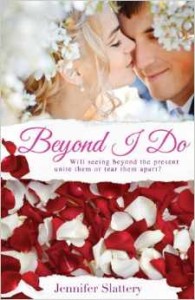 My guest today is Jennifer Slattery, author of Beyond I Do. Jennifer shares an important principle. Be ready for her thought-provoking examples. And don't miss more about Jennifer and Beyond I Do following her post.
 As a freelance editor I'm often asked by new writers: how do I start? And I always answer: just start. Sit your tush in front of your computer and start. Write and keep writing, and eventually, God will direct you into the genre that best fits you.
I believe, through prayer and persistence, God will help writers find their niche.
But what about those writers who want to dabble in a bit of everything? Is that wrong?
Wrong might be a strong word, but unless you're the brilliant Dr. Dennis Hensley, dabbling in literary diversity could work against you. This topic has been sufficiently debated in numerous writers' groups, and most often, our arguments are centered on the reader. While it's imperative we consider our readers in all we do, I suggest we consider this discussion from a different angle—that of personal growth and our pursuit of excellence. 
Let me explain:
Every genre has unique yet reader-expected boundaries and expectations. Click to tweet.
For example, literary fiction often contains a great deal of introspection, examining the thoughts, emotions, and behavior of their character/s at a deeper level than contemporary fiction, and the story ending can be tragic or sad. Suspense on the other hand is largely plot driven and moved very quickly. Romance requires two point-of-view (POV) characters and a happily-ever-after ending.
If you've followed Zoe's blog for any length of time, you likely know this. Perhaps you even feel as if you know the parameters of all genres so well, you feel equipped to write in each one.
If that's you, let me ask you this: if you were in need of a heart transplant, would you prefer to go with a general surgeon experienced in a wide range of procedures or one that had been performing heart transplants for the past twenty years? Or when you go out, do you normally find better coffee at a large restaurant or a coffee house?
You see, there's a difference between knowing and mastering. Specialization isn't a bad thing. I believe it's actually quite good. It allows us to pursue excellence in one particular area. Yes, we can dabble in many, but when we do, I believe our growth will be divided. Imagine how our writing might improve if we focused our efforts.
Granted, some genres are similar enough to allow for easy writer-expansion—contemporary romance and romantic suspense are one. Also, many writers can easily switch between fiction and non (as we get a great deal of practice with the latter doing blog tours! Heehee.) But even in similar genres, I believe the principle still stands. In every field, excellence, I believe, is found in specialization.
That isn't to say writers can't write well in a variety of genres. I believe some, like Dr. Hensley, can. But for the majority of us, I believe our efforts will be maximized when we narrow our focus and pursue that narrowed focus with diligence, intentionality, and perseverance.
What are your thoughts on this subject? How many genres do you write in and why? Have you found your genre "sweet spot" yet? Do you prefer to write in one genre or do you enjoy dabbling in a variety? If you believe writers can diversify, do you believe there's a point when they've expanded too much?
Jennifer Slattery writes soul-stirring fiction for New Hope Publishers, a publishing house passionate about bringing God's healing grace and truth to the hopeless. Her debut novel, Beyond I Do, is currently discounted in e-book format for under $3! You can find it here. 
She also writes for Crosswalk.com, Internet Café Devotions, and writes and edits for Christ to the World Ministries. When not writing, Jennifer loves helping aspiring authors grow in their craft, and has editing slots open beginning in November. Find out more here. 
Visit with Jennifer online at JenniferSlatteryLivesOutLoud. 
 Beyond I Do:
 Will seeing beyond the present unite them or tear them apart?
Marriage . . . it's more than a happily ever after. Eternally more.
Ainsley Meadows, raised by a hedonist mother, who cycles through jobs and relationships like wrapping paper on Christmas morning, falls into a predictable and safe relationship with Richard, a self-absorbed socialite psychiatrist. But as her wedding nears, a battered woman and her child spark a long-forgotten dream and ignite a hidden passion. One that threatens to change everything, including her fiancé. To embrace God's best and find true love, this security-seeking bride must follow God with reckless abandon and realize that marriage goes Beyond I Do.
Read a free, 36-page excerpt here.