"Marketing is a contest for people's attention." — Seth Godin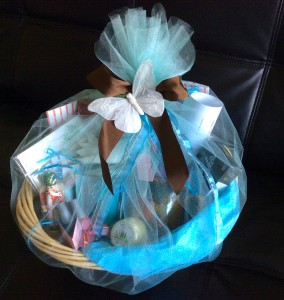 I'm promoting my upcoming novel, but this idea can work to market other products.
A drawing for a gift basket of items related to your novel is easy and effective. Click to tweet.
I made 5 baskets for planned events.
Why it's fun:
Purchasing reasonably priced items is like a treasure hunt.
Example: In Calculated Risk, Cisney lives by sticky notes. I spotted sticky note dispensers in the shapes of a shiny heart, a purse, and a woman's compact with a mirror.
I invited a "crafty" friend for lunch. We spent the afternoon chatting and putting the baskets together, using her expertise in making them attractive.
Why it's easy:
Compared to researching how to write a press release or an effective ad, buying several things that remind you of your story is simple. Especially, if you purposely write easy-to-find things into your novel.
Why it's effective:
Store managers are happy to help you get the word out about your book with something that'll draw customers into their shop.
A basket at an event, such as a launch party, provides visuals for talking about your story. You don't have to memorize a formal speech.
A basket of goodies is eye-catching. It draws people to your book-signing table.
Email addresses collected for winner notification are good for announcing your next novel or discounts on your books. Have a way people can decline receiving updates.
A basket of goodies can work for you without you being present.
Example: My hairdresser displayed my book cover poster and basket for a drawing. So for a month, my basket will draw ladies to enter with their email addresses, pick up a free bookmark and pad of sticky notes with my website info, and take a flyer about my book signing and launch party.
A giveaway basket of items can work for you without you being present. Click to tweet.
How to make a giveaway basket of goodies. 
1. Brainstorm story events and items your characters use. For example, Cisney rashly accepts an invitation to spend Thanksgiving with Nick's family. I needed something to represent Thanksgiving.
2. Purchase 15 to 20 items. Dollar stores often have some quality items for a good price. I included at least three nice gifts women would enjoy, such as a bracelet, scented candle, and specialty hot cocoa mix.
3. Make tags that give a hint of how the items relate to the story and attach them to the items.
4. Arrange the goodies in an inexpensive basket lined with pretty tissue paper. Use colors from your book cover. Wrap the basket with transparent tulle so people can see the goodies. Tie it up and add something like a large butterfly to the bow.
5. Add your book to the basket for your personal events, such as a launch party. Best not to giveaway books at a bookstore that's hosting you to sell books.
From the last book you read, what might be used as a goody in a giveaway basket?