"Wear the old coat and buy the new book." —Austin Phelps 
The purposes of a physical book launch party:
Celebrate and thank others
Get the word out about your book
Sell books
Here's a checklist of items to consider for a local, non-bookstore party like I've done for Calculated Risk.
Set a Budget. Consider:                                              
Room Rental Fee
Food
Decorations
Flowers
Postage for invitations
Prizes and helper gifts
Promotions

Ad: an expense, but will be published
Press Release:

Free, but published if newsworthy & space is available
May be edited

Flyers
Set Date, Time, and Place. Consider: 
•  Scheduling before holidays like Christmas and Valentines Day may encourage gift sales, especially if the holiday is in your story.
•  Scheduling after mealtimes, 2PM to 4PM on a Saturday or Sunday or after 7PM on a weekday, lowers food costs. Cake, and possibly snacks, are sufficient.
•  Reserving a place other than someone's home is best for security reasons. Options:
º Church
º Community center
º Rescue squad building
   If a marquee is available, ask to have your event featured.                                                
Enlist Planners. At least two motivated friends to help in planning and completing tasks. Consider whether they:
know your area and are involved in it
wanted to be party planners since they were 6
Promote. Consider:
People reached.

Public options:

Churches
Beauty Salons
Local Stores
Libraries
Book Clubs
  •   Individuals:
      •  Notify or deliver/send invitations.
      •  Option: hand out stamped invitations to avid readers to send to their reader friends.
Materials.

Invitations. Option:

 Use your promotional postcards exhibiting book cover, blurb, and website.
Add party invitation information (printed adhesive labels work well).

Flyers – include your cover photo.
Bookmarks – add to promotional materials you leave at libraries
Distributors. With your planners:

Brainstorm people willing to help distribute materials 
Enlist distributors and deliver packets to them
Assemble packets in advance with cover sheets giving: distributor, venue, and number of materials in packet
Ads & Press Releases. Options:

Local newspapers.
Online flyers, for organizations willing to email them to their members
5.  Offer Refreshments. Consider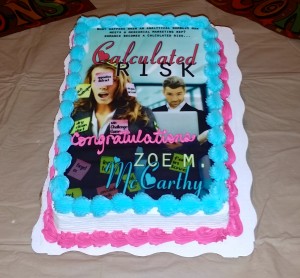 A book cake. Option: Machine-iced with your exact cover.
Extra homemade sheet cakes. Use these before cutting the book cake.
Decorate. Consider:
Book-related items, flowers, and balloons
Tablecloths
Your banner and poster
Tables:

Welcome. Guest book, tickets for prizes.
Food
Book Signing & Sales
Fun Activities. Option: Free gift-wrapping
Giveaways. Options:

Your and other authors' bookmarks.
Your book-related promotional goodies.
Add Events. Consider:
Background music. Option: book-related songs
Short talks (5 minutes) from you. Options:

Welcome
Author-related. Your writing journey.
Book-related. Story behind the story. Excerpts.

Drawings for prizes. Options:
Recruit Helpers. Consider:

Welcoming team
Kitchen help
Punch servers
Activities leaders (option: teens)
Photographer
Book sellers.
Clean-up team
   Provide small gift or thank-you notes for helpers.
Make sure you schedule all tasks for a local book launch party. Click to tweet.
What would you add to this checklist?