"Never forget that you only have one opportunity to make a first impression—with investors, with customers, with PR, and with marketing."
— Natalie Massenet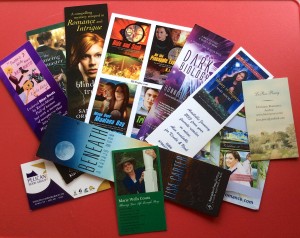 I purchased business cards, bookmarks, postcards, posters, car magnets, a banner, and book-related giveaways. In Part 1, I share general tips for all these materials and specific tips for business cards, bookmarks, and postcards. The rest I'll cover in Part 2.
General Tips:
Start saving for a marketing fund even before you sign a contract. You'll be glad you did.
Order your materials about 4 months before your book releases. First, set what part materials will be of your marketing budget. My materials were about 17%. The rest covered:

events
giveaways
ads
website design
a writers conference
travel
postage
Join writer loops' and save emails about good places to order materials. For Calculated Risk, I decided on one recommended vendor where I could design and order everything, except my book-related giveaways, online from one place.
Purchase only business cards and bookmarks when your materials fund is small. 
Order quality materials if possible. I have a cache of bookmarks and business cards. Most of the authors chose a decent level of quality. The low-quality materials standout among them. In a bad way.
Your low-quality business card will stick out in editors' caches of quality cards. Click to tweet.
Your low-quality bookmark will stick out in readers' caches of quality bookmarks. Click to tweet.
Choose to print on only one side if you need to save on cost. In my cache, several authors chose quality, but the one-side option. If you can't afford at least one-sided quality business cards and bookmarks, use tip 1 for your next book.
Specific Tips for Bookmarks, Business Cards, Postcards:


Choose a finish on which ink doesn't smear. I chose 14 pt. gloss (AQ) coated paper. Sign your materials. Readers like signed things. Some authors in my cache did this.
Buy a Sharpie Ultra Fine Point. Choose a color that fits you or is from your book cover. Make it your "signature" color. Then sign everything with that pen. While watching a Netflix movie, I could sign 100 items.
Include only one link on your materials: your website (and maybe your email address). Make sure your website has:
1. social media buttons on every page
2. your embedded blog
3. a contact-you page
This removes clutter from your materials and drives people to your website, where your book page with buy buttons resides.
10. Put your book cover(s) on all these materials.
Also, a professionally taken headshot, especially on business cards, helps people remember you.
For your materials, use the same headshot as you use on your website, social media, blog, and author page banners. This consistency helps people feel like they know you.
Some conferences offer low-cost, professional photo sessions.
11. Include your book cover, endorsement, blurb, and all ordering information (especially ISBN and release date) on your postcards. Acquisition librarians and bookstore managers appreciate such post cards for ordering your books. I used my postcards also for my launch party invitations.
What tips do you have for acquiring and using these materials?