Authors, where will you spend your time and resources to reach readers?
The chart below shows the results from my survey, How Do Readers Find Books They Want to Read? The analysis below gives you methods represented by the bars and the percent of forty-three participants who chose the methods.
I don't claim the results to be statistically sound but the patterns are interesting. They may give authors some thoughts about where they want to put their time and money in promoting their books.

Analysis
1. What readers participating DON'T do.
         –  2. Attend book fairs (0%)
         – 11. Click on Facebook ads (0%)
         – 12. Click on Twitter ads (0%)
         – 13. Click on Goodreads ads (0%)
         – 25. Subscribe to blogs that review books (0%)
We know people do use these, but not these forty-three participants. My personal experience from an author's perspective agrees with these results.
2. The two most popular methods readers use are the old staples.
         –  4. Act on word of mouth (56%)
         – 22. Look for books by their favorite authors (58%)
Probably, nobody is surprised. So, we authors probably should put more of our time and resources into becoming better writers and writing more great stories in well-edited books. Create the buzz.
3. Readers still like to peruse bookstores – brick and mortar and online.
         –  1. Peruse bookstores (26%)
 – 15. Peruse reviews & star ratings on online bookstore sites (Amazon,   CBD, B&N) (26%)
4. What some participants do may be the up and coming.
         – 8. Read mainly series and get the next book in the series (16%)
         – 9. Click on "Customers who bought this book, also bought …" (Amazon) (19%)
         – 18. Belong to book sites that report deals in your genre (BookBub, Libroso, Inspired Reads, BookGorilla) (19%)
Writing series and getting our books on sites where readers subscribe may be time well spent
5. The rest of the story.
         –  3. Find recommendations in newspapers or other publications (16%*)
         –  5. Investigate books announced through emails from authors about new books, or deals on old ones (9%)
         –  7. Investigate books mentioned in authors' sidebars on their blogs or websites (9%)
         – 14. Look at reviews and recommendations on Goodreads (9%)
         – 24. Investigate books promoted on Facebook (9%)
         – 10. Click on "Sponsored products related to this item …" (Amazon ads) (5%)
         – 21. Look for books on certain publishers' sites (5%)
         – 16. Attended Facebook parties to receive free giveaways (5%)
         –  6. Subscribe and use suggestions from authors' newsletters (2%)
         – 17. Comment on blogs with giveaways to receive free books (2%)
         – 19. Belong to KindleUnlimited or a similar program (2%)
         – 20. Go to Online Libraries (2%)
         – 23. Investigate books promoted on Twitter (2%)
         – 26. Belong to a site where I choose free books to review (Authors Cross-Promotion) (2%)
         – 27. Purchase box sets looking for new authors (2%)
*Some of these participants said they only read nonfiction.
Two results surprised me. I expected more participants to belong to KindleUnlimited and fewer to peruse bookstores.
Again, the survey only shows patterns among forty-three participants that I polled through blog comments, Facebook, Twitter, and emails.
Survey results: how readers find books they want to read.  Click to tweet.
What did or didn't surprise you from the above patterns?
COOKING UP KISSES  – the $0.99 deal for all five books ends July 18.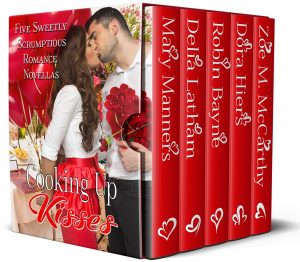 Five scrumptious e-book romance novellas, all for $0.99 or free on KindleUnlimited. Here's the link.  Here are the blurbs: