"The wise learn from the experience of others, and the creative know how to make a crumb of experience go a long way." —Eric Hoffer
You realize you need strong emotional events for your character's journey.
Try using greatest, closest, and funniest moments to pump up your story. Here's how it works:
Step 1 Ask a question at your next social gathering, such as:
What situation was the moment you came closest to death?
What has been your greatest fear?
What was your greatest embarrassment?
What was the greatest injustice you suffered?
What was your funniest situation?
Example: What situation was the moment you came closest to death?
First, the facts:
Response 1: When she was twenty, she hiked a cliff path with her parents. The drop from the path to the boulder-filled creek below was over a hundred feet. She stumbled on a jutting rock and shot out her foot to steady herself on a smooth stone slanting toward the drop. It was wet and slippery. She slid toward the drop. Her mother caught her arm and pulled her back onto the path.
Response 2: On a dark night, a wasp in her car forced her to stop on the side of a deserted road and exit her car. A car pulled up alongside hers, and the lone man asked if her car had broken down. She said it hadn't. He drove on a ways and then slowly made a U-turn. She jumped in her car, wasp or no wasp, and sped by him.
∞
Step 2 Ask the teller to expand on her emotions during the situation.
In telling mode:
Response 1: Desperately trying to get traction, she squealed. Her mother screamed. Afterwards she couldn't stop shaking. She found it difficult to deal with the realization that her mother, without thinking, risked her own life to save hers.
Response 2: She was terrified the wasp would sting her. The man's ogling eyes creeped her out. When he drove on, she was relieved. At his U-turn, her heart stopped. Forgetting the wasp, she panicked to escape him.
Step 3 Collect the stories and organize them by subject. I'd file these under Death Defying.
Step 4 Select a situation from your cache when you need a situation for a character.
Step 5 Massage the situation to fit your story. Let's select Response 1.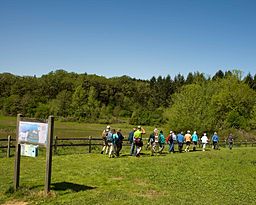 Briefly, in telling mode:
On a team-building weekend, Anne and her colleagues traverse a narrow path along a cliff. Anne precedes Cindy, the ambitious, disliked co-worker. Anne wishes she could pass three people and hike next to Mark, the hunk she and Cindy have their eyes on.
Anne is mentally grumbling about her bad luck, when she trips on a jutting rock. Her left foot zips out to steady herself. She can't gain traction on the slippery stone slanted toward the boulder-filled creek below. Panicking, she yelps as she slides toward the hundred-foot drop. Cindy grabs her arm and pulls her back onto the path.
Later, still trembling, Anne refuses Mark's invitation to eat beans together. She's compelled to understand the woman who risked her life to save hers. She joins Cindy on a log.
Tweetable

How to tap yours and others' "greatest" moments to improve your creative writing.
click to tweet

Now you have a situation with real actions. You can add details and show the emotions.

What situation have you used to enrich a story?