Merry Christmas and greetings! I hope you are enjoying the Christmas Scavenger Hunt Round-Robin and learning about many Christmas books. Remember, you need to visit every author's site in the round-robin to qualify for the chance to win an Amazon $300, $150, or $75 gift card. And you must provide the answers on this Google Form.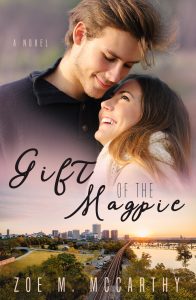 Thank you, for the opportunity to share about my book Gift of the Magpie. I love to talk about my tender and humorous romances that show that opposites distract.
Amanda Larrowe is an English teacher and an award-winning author of middle-grade adventure books for boys. It's a few days before Christmas and Amanda is holed up in her house to meet a January 2 book deadline. Now, in the deepest snow accumulation Richmond, Virginia, has ever experienced, Camden Lancaster moves in across the street. After ten years, her heart still smarts from the humiliating aftermath of their perfect high school Valentine's Day date.
Camden may have transformed into a handsome, amiable photographer, but his likability doesn't instill trust in Amanda's heart. When he doesn't recognize her on their first two encounters, she thinks it's safe to be his fair-weather neighbor. Boy is she wrong.
I had so much fun writing this book. You'll find the answer to my scavenger question, but what the Magpie is remains buried in the story. The magpie is not a bird!
Go to the book at this Amazon link. When Cam came to Amanda's door, what did he ask her for? When you have the answer, fill out this Google form and head to the next blog.
Thanking you for your visit. On with the scavenger hunt! Marissa Shrock is the next author on the tour, telling us about her Christmas book, Deadly Holiday. You can find it at at this link. Remember, the round-robin will end on December 16th at 11:59 PM EST!