We want our children to grow up with healthy creative abilities. My guest today, Jill Bennett, shares an innovative solution for developing young children's creative skills to meet their and societies' future challenges.
Cultivating Creativity:
Engineering Encourages Children to Think Creatively and Take Risks 
Creativity is a step beyond imagination because it requires that you actually do something rather than lie around thinking about it.  It's a very practical process of trying to make something original.
-Sir Ken Robinson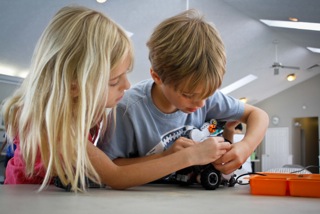 I have seen four-year-old children design rollercoasters as they discover principles of acceleration.  I have watched five-year-old children test various weights in the basket of a model hot air balloon as they explore buoyancy.  I know eight-year-old students who design, build, and program robots to free a simulated trapped dolphin from dangerous ocean conditions.  And there are nine-year-olds out there creating video games.  From scratch.
These children are solving problems in original ways. They see a challenge, develop ideas to solve the problem, and then they act.  Dori Roberts, founder and CEO of Virginia-based franchise Engineering for Kids, knows a great deal about designing an original idea.
Seeing a Challenge
Dori began her professional career as a high school technology and engineering teacher.  During those years, she helped her students consider innovative ways to solve engineering-related challenges.  She watched her students take risks. She began an engineering club at her school and traveled throughout the region, state, and nation with them.  Her son, who was six at the time, became very interested in the older students' projects.  Upon searching for an after-school, engineering-related class for him, she realized there was nothing available for his age group.
Solving the Problem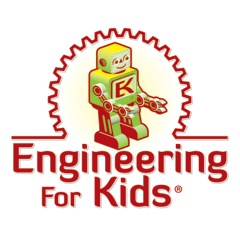 Many parents would have thrown their arms up in frustration and would have begrudgingly registered their child for an alternate after-school activity.  Dori, however, recognized a need in the community and acted.  She began offering after-school classes at her son's school, followed by summer camps at the local community center.  It did not take long for these classes to fill.  Word spread that the kids loved designing their own rockets, bridges, flashlights, and more.  The idea was a success.  Such a success, in fact, that she drafted a business plan, opened the Engineering for Kids Learning Center in Stafford, Virginia, and made it her full-time job.
Acting and Creating a Vision
I joined the Engineering for Kids team about two years ago and have been overseeing the development of curriculum and programs.   The team continues to grow, as does the business.  Engineering for Kids became a franchise just over a year ago and we now have 25 locations, two of which are international.  Our goal is to have 60 franchises by the end of 2013.  Our vision is to "inspire the next generation of engineers."
Noting Reasons for Success
So many factors have contributed to the success of Engineering for Kids.  On any given day, it is tough to scan through newspaper headlines without seeing topics such as science education, STEM (Science, Technology, Engineering, Math), or the need for qualified engineers.  Parents are always looking for educational opportunities for their children, and it's a huge bonus when their kids are excited to sign up for an educational activity outside of school hours.  These students are being challenged during these engineering classes without even knowing it!  In addition, Engineering for Kids is growing because we have a host of franchisees that have been willing to take a risk.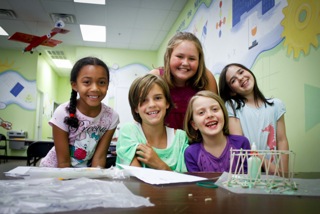 During any given lesson, we ask our students to use their creativity to solve challenges and take risks.  It is very possible that students will develop completely different solutions to the same challenge.  And that is okay.  In fact, we encourage it.  We recognize that creativity requires taking a risk by putting yourself and your ideas out there.  It takes guts to present an original idea to your peers.
Not all of our students will become engineers.  We realize that.  However, the lil' mechanical engineer I mentioned earlier is already learning what it means to consider challenging concepts like designing a rollercoaster, think creatively to solve problems, and take risks in designing solutions.  We are confident that exposing kids to engineering will give them a strong foundation in thinking creatively and taking risks.  And maybe, just maybe, one of our students will design the next generation's fastest, most thrilling rollercoaster experience the world has ever known.
Related Links:
http://www.marieclaire.com/blog/engineering-for-kids-franchise
http://www.huffingtonpost.com/dori-roberts/creating-tinkering-inventing_b_2545936.html
http://news.fredericksburg.com/business/2012/10/12/engineering-for-kids-going-international/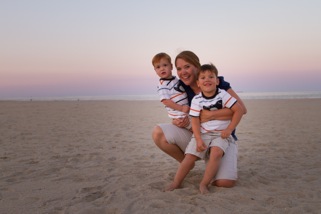 Jill Bennett, Director of Program Development at Engineering for Kids, joined the team in 2011.  She received her Bachelor of Arts degree in American Studies and Elementary Education from the University of Richmond in 2001.  She taught first and third grade in Henrico County, Virginia. During the 2005-2006 school year she was selected by colleagues as her school's distinguished "Teacher of the Year", which is awarded annually to one outstanding teacher.  In 2008, Jill earned a Master of Education in Instruction from the University of Virginia.  Currently, she balances her work at Engineering for Kids with lots and lots of playtime with her sons, who are four and two.
[contact-form][contact-field label='Name' type='name' required='1'/][contact-field label='Email' type='email' required='1'/][contact-field label='Comment' type='textarea' required='1'/][/contact-form]